OpTiMSoC is a framework to build a custom tiled Multi-Core SoC
OpTiMSoC: Open Tiled Manycore System-on-Chip
OpTiMSoC is an award-winning an open-source framework primarily written in Verilog which allows you to build your own manycore System-on-Chip by connecting tiles like processors and memories through a Network-on-Chip. The resulting system can then be simulated on a PC or synthesized for an FPGA. You want to know how a SoC really works by taking a deep look inside? You want to evaluate the benefit of a new hardware accelerator? You want to test algorithms to assign tasks efficiently to different processing cores? OpTiMSoC gets you started!
Getting started
OpTiMSoC comes with an ever growing documentation as well as a lot of sample code that you can use to get started quickly. Depending on the hardware and software you have available, you can start by running a small existing system on an FPGA or simulating it (with Verilator or ModelSim).
A sneak peek
OpTiMSoC can boot Linux! Have a look, and read more about it in our blog.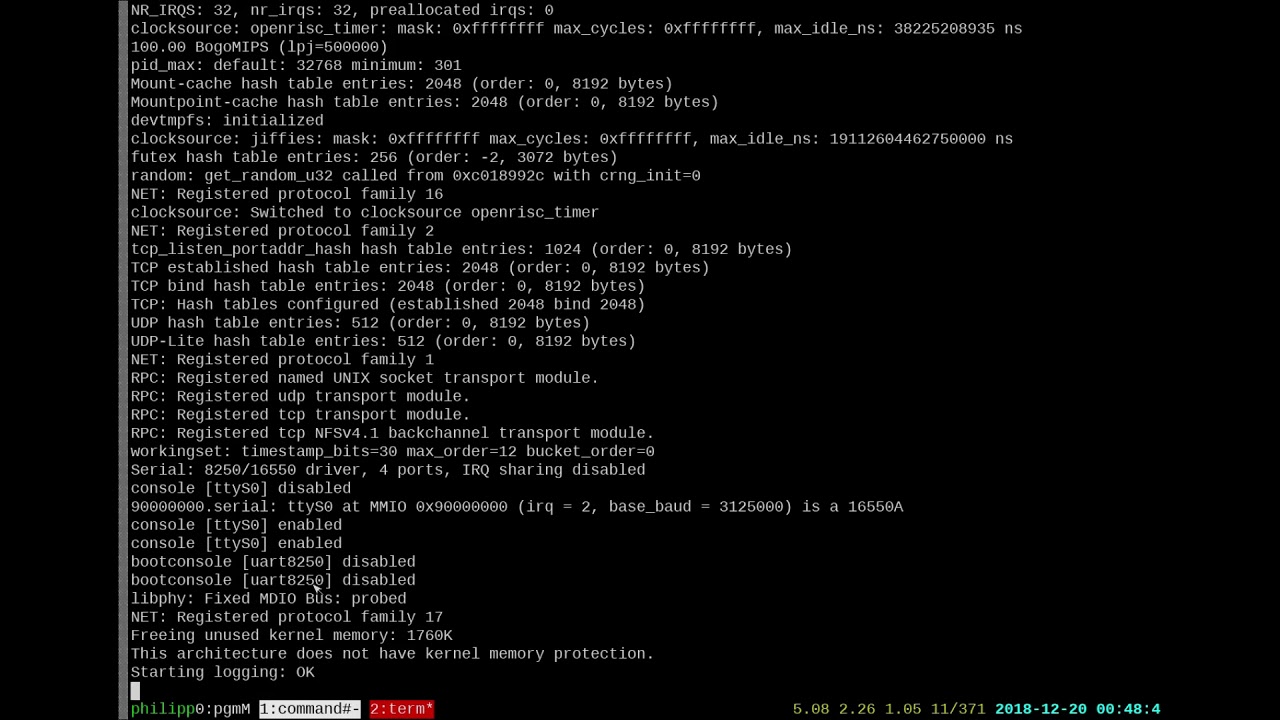 Get involved
OpTiMSoC welcomes your contribution! Our web site has more information how to get in touch and contribute. Or simply file an issue or a pull request here on GitHub.
License
OpTiMSoC is licensed under the permissive MIT license, see COPYING for details.
Unless otherwise defined in a file, the following license applies to
OpTiMSoC:

Permission is hereby granted, free of charge, to any person obtaining a
copy of this software and associated documentation files (the "Software"),
to deal in the Software without restriction, including without limitation
the rights to use, copy, modify, merge, publish, distribute, sublicense,
and/or sell copies of the Software, and to permit persons to whom the
Software is furnished to do so, subject to the following conditions:

The above copyright notice and this permission notice shall be included in
all copies or substantial portions of the Software.

THE SOFTWARE IS PROVIDED "AS IS", WITHOUT WARRANTY OF ANY KIND, EXPRESS OR
IMPLIED, INCLUDING BUT NOT LIMITED TO THE WARRANTIES OF MERCHANTABILITY,
FITNESS FOR A PARTICULAR PURPOSE AND NONINFRINGEMENT. IN NO EVENT SHALL THE
AUTHORS OR COPYRIGHT HOLDERS BE LIABLE FOR ANY CLAIM, DAMAGES OR OTHER
LIABILITY, WHETHER IN AN ACTION OF CONTRACT, TORT OR OTHERWISE, ARISING
FROM, OUT OF OR IN CONNECTION WITH THE SOFTWARE OR THE USE OR OTHER
DEALINGS IN THE SOFTWARE.

Data Sheet
Project Web Site
https://github.com/optimsoc/optimsoc.git
MIT
Issue Tracker
Last activity 1 year ago
v2018.1 released 3 years ago
Primary language: Verilog-SystemVerilog
45 open issues
3 open pull requests
20 forks
19 watchers
47 stars
2527 commits by 16 contributors
activity over the last year
LibreCores data updated 1 year ago